Regular price
$29.99 USD
Sale price
$19.99 USD
Unit price
per
CHRISTMAS SALE
Sold out
CHERRY MX ERGO CLEAR
FOCUSED, SMOOTH AND NOTICEABLE
Tactile switching

characteristics

55 cN operating force


4.0 mm total travel


No click

Share
View full details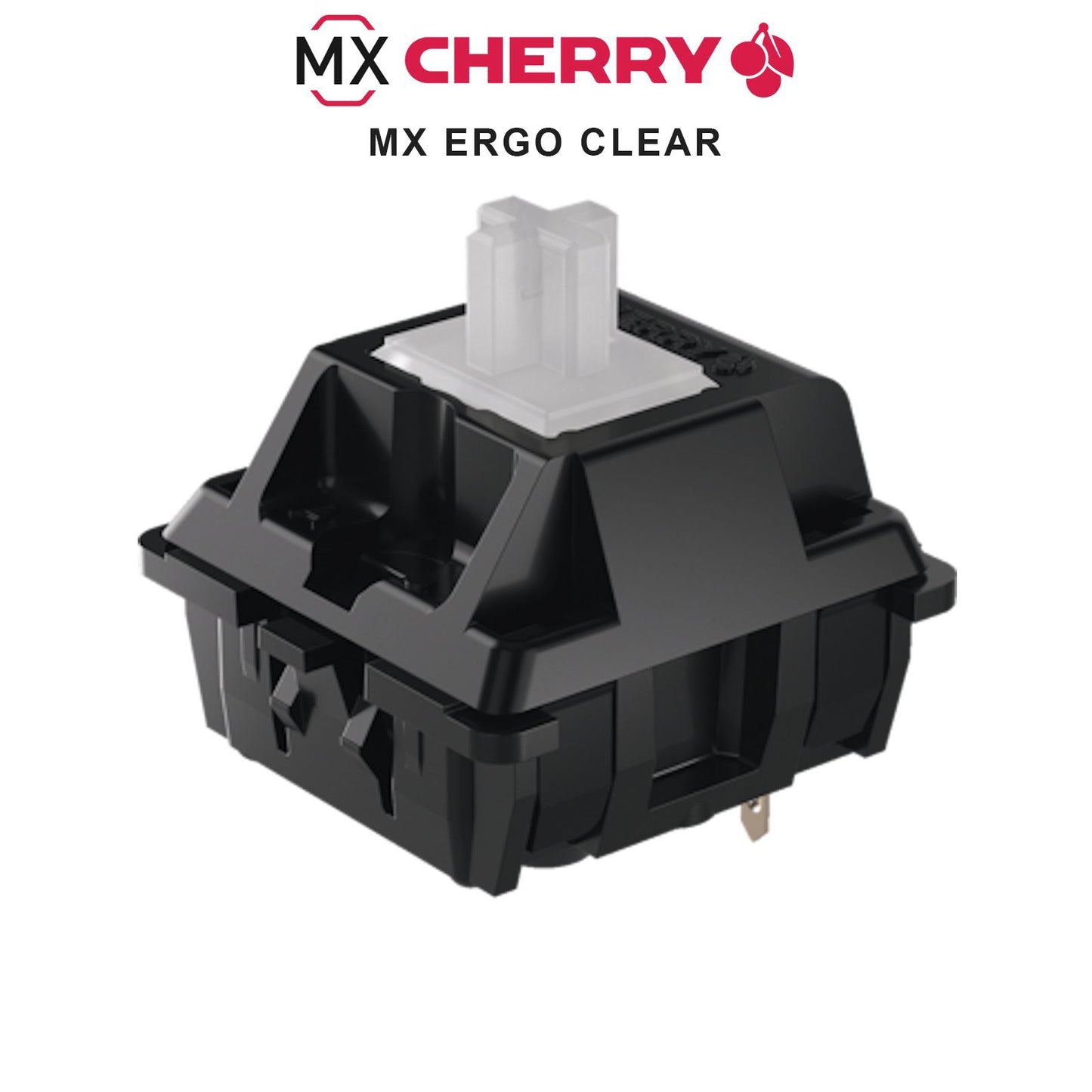 "CHERRY MX are the best switches on the market"
- LesPlayersDuDimanche, France 
INSIDE CHERRY MX ERGO CLEAR
Upper Housing is a CAD high precision component made of plastic polymer. With a tolerance of less than 0.01 mm, the component guides the switching slide precisely, forming the CHERRY MX keyswitch's switching mechanism housing.
A CAD high-precision component made of plastic polymer specifically for the Cherry MX creates the pre travel and the keystroke feel between the upper housing and coil spring. The key cap is attached on the upper part of the stem.
This white switching slide is responsible for the tactile switch characteristics of the CHERRY MX Clear. Due to the bulge on the TLS Surface, the switch sends a noticeable feedback, which communicates the exact position of the trigger to the user.
Gold-based, the crosspoint contact is the heart of every CHERRY MX keyswitch and the basis of its incredible reliability and durability. With absolute precision, these triangular cross-contacts meet each other at precise right angles.
This unique CHERRY innovation and ornate gold-plating make the electrical contact enclosure self-cleaning and gives the keyswitch permanent protection against corrosion, guaranteeing the keyswitch for more than 50 million operations.
The keyswitch's coil spring pressure resistance is the CHERRY MX's sparring partner for your fingers. The high-density molecular structure of the spring's metal alloy is calculated individually on the keyswitch and consistently optimized for the keyswitch's specific pressure force.
Dual-functional, the housing base component is made of plastic polymer and glass fibre. The inner part forms the mounting for the CHERRY MX keyswitch's switching mechanism. The outer part is both the base and mounting surface for CHERRY's mechanical keyboards.
MORE ABOUT CHERRY MX ERGO CLEAR
As a tactile switch without a click, the CHERRY MX Clear is the sister model of the CHERRY MX Brown and CHERRY MX Grey. Due to its actuation, it is the perfect centerpiece for its brown and grey equivalent. The robust exotic is a popular switch for enthusiasts.
TECHNICAL DATA
Tactile switching characteristics
55 cN operating force
2.0 mm pre travel
4.0 mm total travel
No click
WHY CHERRY MX IS THE WORLD LEADER IN KEYSWITCH TECHNOLOGY
What really matters is often unseen. Mechanical keyboards must maximize reliability and performance based on technology hidden under the key caps. CHERRY MX is the world leader in keyswitch technology and CHERRY MX switches are the absolute industry benchmarks, developed and manufactured in Germany.